James Madison University: Where company connections and jobs meet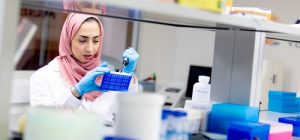 With a top 100 ranking for undergraduate business and recognition for many other degree programs, James Madison University focuses on educating students for the real world. It's easy to see why JMU has been named the "Top College in Virginia for Getting a Job" two years in a row, according to U.S. Department of Education statistics compiled by Zippia. JMU has the highest post-graduation employment levels amongst all Virginia institutions, and graduates earn the 13th-highest median income nationally for small and mid-sized universities. 
"I think JMU has this environment to ask questions, and you also have the Student Success Centre, where they help you to fix your CV, prepare you for an interview. You go out of there graduating happy, excited," said Dalia, a JMU graduate from Saudi Arabia.
JMU alumni highlight the value of the university's education system, and they offer ways to connect with some of the world's largest companies, like Amazon. Austin Adams, a JMU alumnus, works for Amazon. He said that JMU's talent pool offers an opportunity for Amazon and that some of the people he has worked with at Amazon have been JMU graduates. He said, "The work they're doing here, from an innovation perspective and from a customer obsession perspective, is exceptional. It's certainly something that would serve students well in a workplace like Amazon's."
JMU offers company connections at many other large organizations that seek out JMU graduates. The Class of 2019, for example, saw more than 15 graduates go on to jobs at each of these companies: Accenture, CGI, Cvent, D loitte, IBM, and KPMG, among others. Within the JMU College of Business, graduates obtained jobs at these companies and were hired at top companies like AT&T, Cox Media Group, E*Trade, Ernst & Young, L'Oreal, Microsoft, PricewaterhouseCoopers, and TESLA.
With exceptional academics, dedicated career support, and connected alumni at high profile companies, JMU prepares students for great careers. It's no wonder that 97% of JMU graduates are employed, continuing their education, or engaging in an internship or experiential learning opportunity (Class of 2019 data).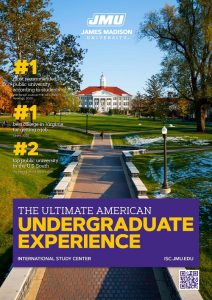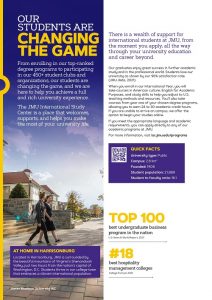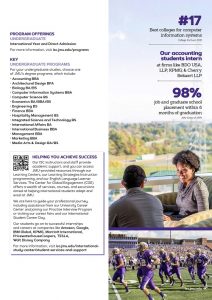 International students enrolling at James Madison University (JMU) are eligible for new scholarships to the university
Scholarships for International Study Center (ISC) Students
JMU is now offering progression scholarships to ISC students who meet the GPA requirements during their ISC studies. These scholarships are valued at up to US$6,000 per year after students progress from the ISC, starting with their JMU studies in Fall 2021.
Total Value
Value (Per Year)
Criteria to Award
Criteria to Maintain
ISC Progression Scholarship

US$10,500

US$3,500

GPA 2.5-2.99

2.5 GPA

ISC Progression Merit Scholarships
US$13,500
US$4,500
GPA 3.0-3.49
2.5 GPA
US$18,000
US$6,000
GPA 3.5+
2.5 GPA
Students are eligible for Study Group scholarships valued at US$3,000 to US$8,000 when they are admitted to the JMU ISC, allowing pathway students the opportunity to earn up to US$26,000 across four years of study.
Scholarships for Direct Admit Students
Direct admission students enrolling at JMU are eligible for a new DA Merit Scholarship, valued between US$4,500 to US$6,000 per year. Students must have completed high school outside of the
U.S. These scholarships are available for Fall 2021 entry.
Total Value
Value (Per Year)
Award Criteria
Criteria to Maintain
DA Merit Scholarship
US$18,000
US$4,500
GPA 3.0-3.49
2.5 GPA
US$24,000
US$6,000
GPA 3.5+
2.5 GPA
Contact us:
Oversea Education Consultancy (OEC) http://oec.edu.vn/
Tel: 02437321063